Organizational Options
There are a host of options or district-provided platforms to house lessons and assignments. Besides the popular Google Classroom, there is Canvas, Blackboard Learn, Moodle, Schoology, and others. All of them are geared to provide the educator with a place for announcements, assignments, documents or files, videos, and instructions. Each one has their own unique qualities and limitations, but are functional for the purposes of organizing remote or distance learning.
If your district does not provide one of these platforms, there are still other options to keep you and your students organized. Creating and publishing a simple website such as Weebly, Padlet or Google Sites can be beneficial. These are free and fairly easy to use.
Another free option is creating a simple document with hyperlinks embedded in it. Both Google Docs and Word Docs have this functionality. You could send the link or document to the student's or their parent's emails.
K.I.S.(f)S.
When it comes to posting assignments, Keep It Simple (for the) Students! If we are being honest, it needs to be kept simple for the parents or adults assisting the learners too. Often we write online assignments like we are in class giving directions. It becomes a narrative and loses its impact due to over-explaining.
This example has all the directions in it, but it is difficult to follow. Instead of simple instructions, it has become a reading comprehension challenge.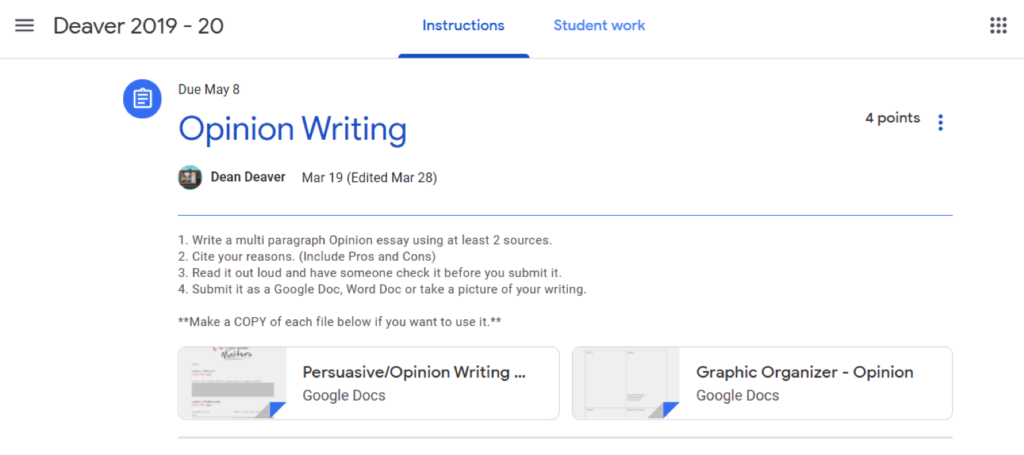 Try bullets or numbering the steps or expectations. This helps the student and parent check off each completed section. The sentences are short and to the point. Including a simple video that outlines the assignments also keeps it simple for students and parents.
Choices and Options
Remote learning is ideal for providing options and choices for all levels. Consider creating a "Playlist" with the lessons, worksheets, assignments, and organizers all in one place so that the remote learner can choose what they want to do first. Here are two examples: Playlist 1 and Playlist 2.
Some prefer a Daily Schedule (Provided by Kristal Fryan) and others prefer a Weekly List. Both have their advantages, but choose what works best for you and your class.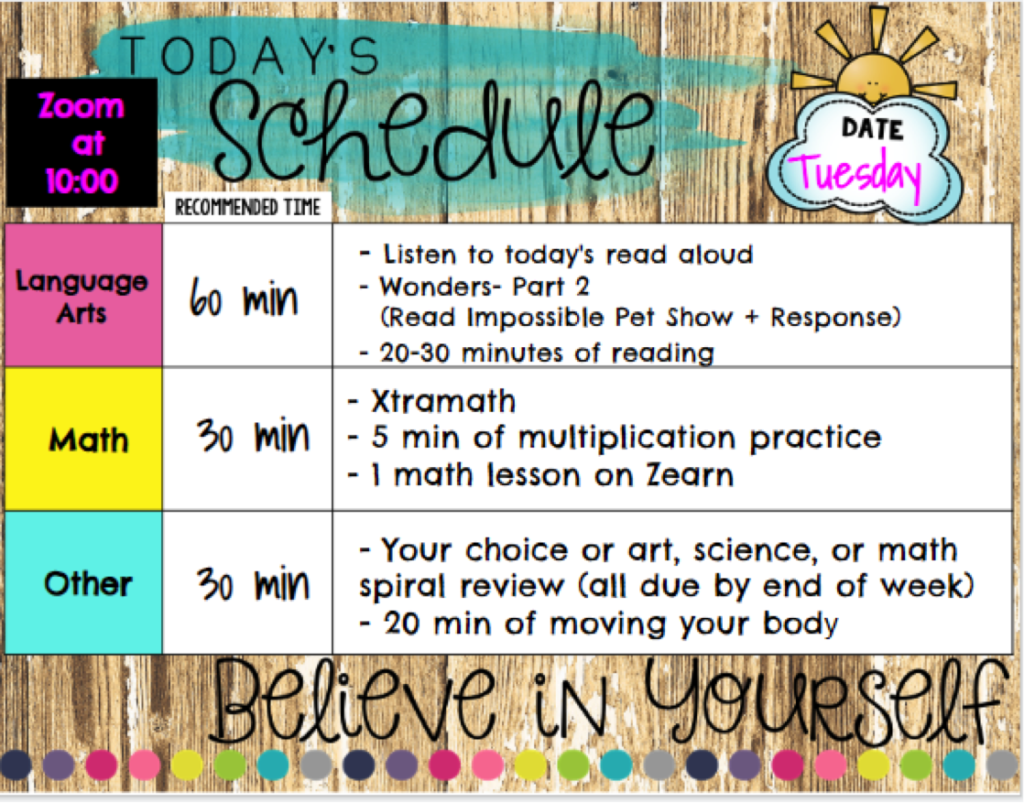 One thing to remember when creating a playlist or a schedule is that learners at home have many distractions and parental or caregiver time constraints. Often, including assigned times of the day and even how long each will take can be frustrating and limiting to the learners and their families. If you leave it more open for the family's schedule, then the learner has more flexibility in choices and time.
Language Arts Options
Within the Playlist or posted assignments, consider offering choices for the different levels of learning. Since it is more about learning the standard or skill, the materials or resources can be set up to allow the learner to have more choices at or above their level. For example, for Language Arts, you could provide multiple reading selections for different reading abilities.
In the linked document, it is separated by Lexile Level and usually has a couple of options for the learner to choose. They could also choose to read a selection that is higher than their Lexile level but they may not choose a selection below their reading level. The document should have either links or directions where to find the selections. On the left side is the specific standard being addressed that week. Since that is the focus, then the selections and assignments need to support that and it does not have to be "one selection for all."
Math Options
Math can have similar options. In this example, the math standard is still the primary focus (see left side) and the resources to learn it are in the first column. (4th-grade class) Then there are other resources (columns to the right) for the learner based on the skills that they should have learned in the previous grades. The student can go back on their own or with the help of an adult and fill in some gaps they have from a previous grade in order to understand their current grade level material.
This does take more prep time, but in the end, you are meeting the individual needs of your students with choices and resources that will help them learn at their level and pace.
Writing Options
One of the most challenging topics for learners of all ages to master is writing. Modeling, samples, modeling, samples, repeat. Since the learners are not in a classroom with you there to guide them, consider creating a document that they could use and refer to over and over. Here are some examples of the three main writing genres with documents that guide them through the entire writing process: Narrative, Informative, and Opinion/Persuasive.
Each of the linked documents guide the learner through the specific writing genre with videos and mini activities. This could be something completed and submitted back to you or something you could even talk them through in a video chat. It also has a link to a simple graphic organizer. Consider adding more student samples and district or teacher-created rubrics for each of these writing genres.
Tracking Completed Assignments
Distance Learning has its own unique brand of keeping track of completed assignments. Ideally, it would be helpful if all the websites were able to connect to each other or at least to one central hub that could keep track of everything. Since that does not exist, teachers have become very creative using everything from low tech paper checklists to advanced spreadsheets. Even with platforms like Google Classroom, Seesaw and other similar learning management systems (LMS), teachers are still required to find other means to house all completed assignments and grades.
Many programs such as ReadTheory provide essential data that may not need to be transferred to a separate score or grade sheet. In the case of ReadTheory, and other programs, you can typically print the needed data for each student.
The Key
The key to all of this is to only keep track of those assignments and assessments that matter. This directly connects back to the type of assignments and assessments you give to your students. Distance or remote learning does not need fillers or constant repetitive assignments. The students and parents do not have time to constantly do these. Nor do you as the teacher have the time to monitor and keep track of each one, especially if it is not essential to providing evidence of meeting or exceeding grade-level standards.
According to Marisa Thompson, (#UnlimitedTeacher) she explores this topic by asking, "What are your ultimate goals for your students?" If your assignments don't align with these goals, then assigning tasks that are not essential, especially when compared to the most in-demand skills (see link) for today's world, then reconsider giving them to your students.
Templates
Besides the classic paper checklists, there are also digital checklists for assignment completion.
Simple Example 1
Advanced Example 2 (Provided by Cathy Patterson).
Here are some examples of keeping track of grades and not just assignment completion:
Simple Google Spreadsheet
Advanced Google Spreadsheet
From Ugh to Plug
The goal in remote learning is for everyone to "plug" in, literally and metaphorically, to the lessons and assignments in a meaningful and successful way. After you decide what it is that you really need the students to learn and show mastery in, then you can bring in all the academic websites and apps to support the objectives. What are some suggestions that you have for organizing online materials? Let us know!
We're here if you need us
As always, but even more so now, our team is here for any questions or concerns that you might have.
We will keep posting new content on a weekly basis on how to simplify the transition to remote teaching and ease the lives of both teachers and students, so stay tuned. And stay healthy!