Privacy Policy
Find our complete Terms of Use policy below.
Our mission at ReadTheory.org is to teach every student to read and think critically. In pursuit of this mission, we are a proud supporter of the Student Privacy Pledge to safeguard student privacy.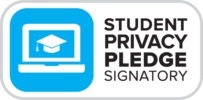 Last updated on February 7, 2018.

This Privacy Policy governs the manner in which ReadTheory collects, uses, maintains and discloses information collected from users (each, a "User") of the website ("Site"). This Policy applies to the ReadTheory website available at www.readtheory.com and/or any of our other websites or applications that post this Policy (respectively the "Site" or "App"), and our services made available through the Site or App (together, the "Services"). By submitting personal information through our Services, you expressly consent to the processing of your and your students' personal information in the U.S. in accordance with this Privacy Policy. "Student personal information" is personally identifiable information, as well as other information, when it is both collected and maintained on an individual level and is linked to personally identifiable information. This could include indirect identifiers, such as an email, IP address, and the other kinds of information that you listed as purely technical and non-personal ("use of non-personal information").

USE OF PERSONAL INFORMATION
We may collect personal identification information from Users in a variety of ways, including, but not limited to, when Users visit our site, register on the site, subscribe to the newsletter, and fill out a form on our Site. Users may be asked for, as appropriate, names and email addresses. Users may, however, visit our Site anonymously. We will collect personal identification information from Users only if they voluntarily submit such information to us. Users can always refuse to supply personally identification information, except that it may prevent them from engaging in certain Site related activities. Users shall NOT be prompted to submit their personal, phone numbers, personal mailing addresses, dates of birth, or Social Security numbers (or foreign national identification numbers), nor will they be prompted to submit the phone numbers or mailing addresses of any educational institutions with which they may be associated. We also do not provide for the uploading of any manner of photographs, nor do we link accounts with any manner of third-party social media profiles. Per our adherence to and support of the Student Privacy Pledge, ReadTheory only contracts with third parties that are consistent with the same Pledge principles that Pledge members adhere to, including security and data retention principles."

We use information collected through our Services, or disclosed by you on our Site or App or in connection with our Services, for the purposes described in this Policy. For example, we may use your and your students' information to:
understand your student's performance in relationship to others and to provide you and your student with insight into their performance;
understand your and your students' preferences and to enhance your and your students' experience and enjoyment using our Site, App and Services;
operate, maintain, and improve our Site, App and Services;
respond to comments and questions and provide customer service;
send you related information including confirmations, invoices, technical notices, updates, security alerts, and support and administrative messages;
communicate about promotions and other news about Services offered by us;
protect, investigate, and deter against fraudulent, unauthorized, or illegal activity;
link or combine with other personal information we get from third parties such as your associated school, to help understand your needs and provide you with better service; and
provide and deliver products and services that you request.


We will not use your personal information in any way other than in connection with providing the Services, as described in this Policy, as directed by a teacher or school, or upon obtaining your consent.

USE OF NON-PERSONAL INFORMATION
We may collect non-personal identification information about Users whenever they interact with our Site. Non-personal identification information may include the browser name, the type of computer and technical information about Users means of connection to our Site, such as the operating system and the Internet service providers utilized and other similar information.

COOKIES
We may automatically collect information using "cookies." Cookies are small data files stored on your Child's hard drive by a website. Among other things, cookies help us make our Services and the student's experience better. We use cookies to see which parts and features of our Services are popular and to count visits to our Services. Most web browsers are set to accept cookies by default. If you prefer, you can typically remove and reject cookies from our Site with your browser settings. If you remove or reject our cookies, it could affect how our Site and Services work for you. You may choose to opt-out of use of cookies by certain third-party analytics providers. If you delete your cookies, use a different browser, or buy a new computer, you will need to renew your opt-out choice. While we and others give you choices described in this Policy, there are many ways web browser signals and other similar mechanisms can indicate your choice to disable tracking, and we may not be aware of or honor every mechanism.

SHARING OF PERSONAL INFORMATION
We do not share your or your student's personal information except as follows:
with your school or school district at their request;
understand your and your students' preferences and to enhance your and your students' experience and enjoyment using our Site, App and Services;
with third party service providers, consultants, and other service providers who perform services for us and need access to your or your student's information to do that work in a manner consistent with this Policy (for example, our web hosting provider, third party analytics service providers and purchase processors);
to comply with laws or to respond to lawful requests and legal process;
to protect the rights and property of ReadTheory, our agents, users, and others including to enforce our agreements, policies, and terms of use;


Additionally, we may share your or your student's personal information with new teachers who use the Services in their classrooms when you or your student, as applicable, enroll in such teachers' classes, and we may share teacher personal information with other teachers within a school using the Services.


We may create and use anonymized and/or aggregated data for our own purposes by excluding information (such as your or your student's name) that makes the data personally identifiable to you or your student. The purposes for which we may create and use anonymized and/or aggregated data include but are not limited to, conducting analysis and generating statistics regarding the use of our Site, App and/or Services. We will not share your or your student's personal information in any way other than in connection with providing the Services, as described in this Policy, as directed by a teacher, parent/legal guardian or school, or upon obtaining your consent. We require our third party service providers not to use your or your student's personal information other than to provide the services that we have requested.


We will not disclose your or your student's personal information to any third party for that third party's own marketing purposes. Additionally, we will not use or disclose student information (whether personal information or otherwise) for behavioral targeting of advertisements to such students. We do not sell student personal information.


SECURITY OF YOUR PERSONAL INFORMATION
We encrypt the transmission of your and your students' personal information using security measures designed to protect the security, privacy, confidentiality, and integrity of personal information against risks through the use of administrative, technological, and physical safeguards. We also take reasonable steps to release personal information only to third parties who are capable of maintaining the confidentiality, security and integrity of such information, and who provide assurances that they will maintain the information in such a manner. Despite our efforts, however, third parties may still find ways to hack into the Service and intercept data transmissions. Therefore, although we take security very seriously and work very hard on behalf of your and your students' privacy, we cannot guarantee the security of your or your student's information.


Advertisement
We may display advertisements to Users of our Site from time to time. This is the means by which we generate revenue necessary to sustain our site as a completely free resource. Such advertisements are in compliance with COPPA, which applies to websites and services directed to children under the age of 13 and general audience sites or services with users known to be under the age of 13. Advertisements on our Site are non-targeted. This means personalized advertising (formerly known as interest-based advertising), has been disabled for all ads shown on this Site. When using this feature, a TFCD (Tag for Child Directed Treatment) parameter will be included in your ad request. The parameter functions to disable interest-based advertising and remarketing ads for that content. This measure has been implemented on a Site-wide basis, meaning all advertisements present on the Site are COPPA compliant per the Google Adsense child-directed treatment for advertisements documentation.
For more information about third-party advertising services or how to opt out of those, you can visit aboutads.info
One of our ad service providers is Google's DoubleClick – you can opt out fo the use of cookies by double by clicking here


Log Files
Like many other Web sites, www.readtheory.org makes use of log files. The information inside the log files includes internet protocol (IP) addresses, type of browser, Internet Service Provider (ISP), date/time stamp, referring/exit pages, and number of clicks to analyze trends, administer the site, track user's movement around the site, and gather demographic information. IP addresses, and other such information are not linked to any information that is personally identifiable.


Unique Identifiers
We may use unique identifiers to track individual usage behavior on our Services, such as length of time spent on a particular page and pages viewed during a particular log-in period. The unique identifiers collect information about a user's use of the Services on an individual basis. We use the information that we gather through unique identifiers to evaluate and improve the Services and its content, including, but not limited to, the effectiveness of certain materials on our Services and the student and teacher experience while using the Services.


Analytics and Other Technologies
We use other technologies and analytics services (including Google Analytics) to help analyze how users use the Services. These analytics use cookies, digital images called web beacons, and other technological methods to collect and store information such as how often users visit the Services, what features they use, what pages they visit, what emails they open, and what other sites they used prior to coming to the Services. We use the information we get from analytics services to improve our Site, App and Services. Please see the following links for more information about Google Analytics and to opt out: google.com/policies/privacy/partners/ and tools.google.com/dlpage/gaoptout.


US Education and Privacy Laws
ReadTheory LLC does not receive funding from the United States Department of Education and is as such not subject to the FERPA Family Educational Rights and Privacy Act. Because the Site be utilized in full without any institutional licenses or exchange of payment, we do not stand in a contractual service agreement with any such USDE-funded institutions, nor do we act on such institutions' behalf, nor are we under the direct or indirect control of any such institution. We do not qualify as a "school official" for these purposes.


Statistics collected on student progress reports do not constitute "educational records" per FERPA. We do not provide guidelines, recommendations, or information of any kind for teachers or schools who wish to incorporate students' ReadTheory activity into their official grades or other records. Any teacher who wishes to use the Site in this way does so at his or her own discretion and is responsible for protecting the privacy of any such data so utilized.


Progress reports are accessible only to the Users themselves by logging in to a password-protected Student Account. Progress reports may be visible to any password-protected Teacher Accounts to whom each User's account is linked. The User can remove himself from such an association with a Teacher Account at any time. We do not share or sell access to Users' progress reports with third parties.


Any parent or guardian of a minor who wishes to gain access to his or her child's progress report should submit their request in writing to support@readtheory.org.


In compliance with COPPA Children's Online Privacy Protection Act, we are required to obtain parental consent for all Users under 13 years of age. To this end, all Users signing up for new Student Accounts, as well as all Teacher Accounts creating Student Accounts on behalf of their students, shall review our Parental Information Flyer and keep this document for their records. Minors' continued use of the Site following parents' or guardians' review of our Parental Information Form is considered to constitute parental consent.


Any parent or guardian of an under-13 child whose account has already been created without parental consent or prior to the establishment of parental consent can petition to have the child's account deleted. Requests for account deletion should be submitted in writing to support@readtheory.org.


In the event of a data breach, we will notify Users within 72 hours. This notification may be delivered in the form of email or in general message posting in a prominent location on the Site.


Retention
We will retain student personal information, including after the school term in which the student uses the Services, for only as long as is reasonably necessary to fulfill the purpose for which the information was collected. Generally, ReadTheory will delete a student or teacher's personal information 1 year after that student or teacher's last login to the Services.


Changes to this privacy policy
We may change this Policy from time to time. If we make any changes to this Policy, we will change the Last Revised date above. If we make material changes to this Policy, we send a notice to the email address we have on file for the accountholder, which may include a student's teacher. For material changes regarding use or collection of data, we will provide choices and additional information regarding the collection of such data before it is used in any manner inconsistent with the terms initially provided to users. Except as otherwise provided in this Policy, any changes to this Policy will be effective immediately for new users of the Services. You are responsible at all times for providing to us your most current e-mail address.


Your acceptance of these terms
By using this Site, you signify your acceptance of this policy and Terms of Use . If you do not agree to this policy, please do not use our Site. Your continued use of the Site following the posting of changes to this policy will be deemed your acceptance of those changes.


Contacting us
If you have any questions about this Privacy Policy, the practices of this site, or your dealings with this site, please contact us at support@readtheory.org.