Teachers have always been a portion of the population to rise to meet any challenge. The COVID-19 crisis has proven to be this generation's greatest educational obstacle. What other group found itself forced to convert to working and instructing others online within the time span of a few days? We adapted. We were flexible. And we proved our value as we overcame this challenge. It was our time to shine. In the wake of the COVID-19 pandemic, schools were required to augment their instructional techniques and convert to remote learning environments, all in a matter of days. This left teachers scrambling to find resources that were convenient and freely accessible to them and their students. The good news? These resources, such as ReadTheory, are still helping teachers and parents today. Let's discuss some of our favorite resources and create a list of our top digital learning tools.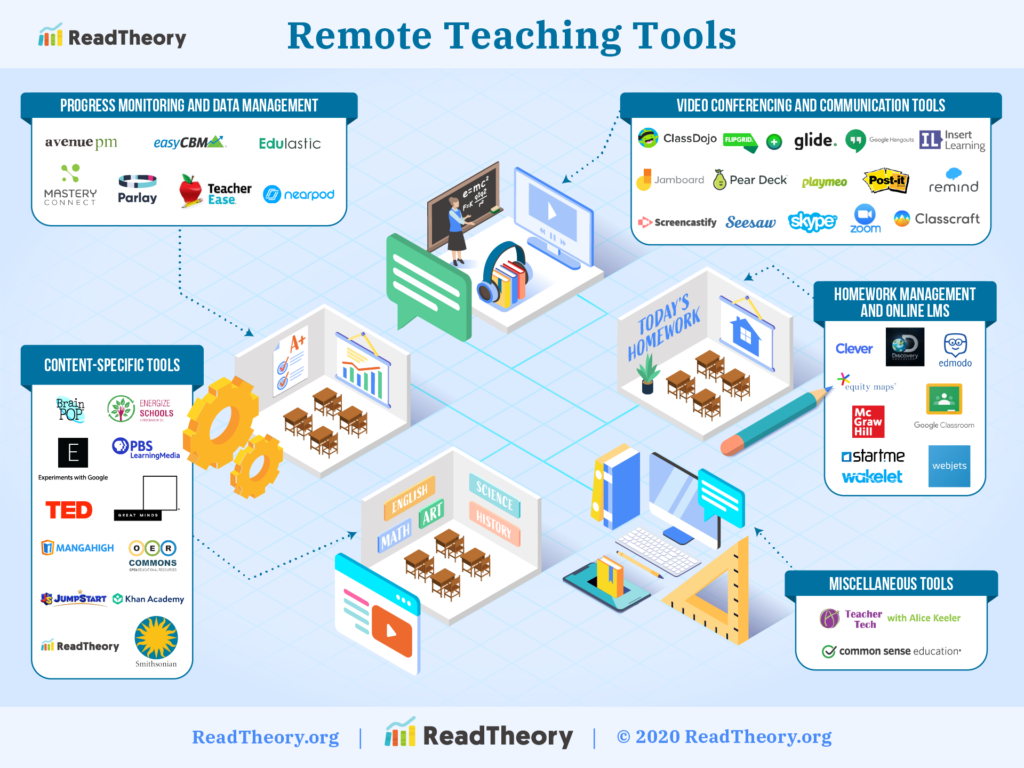 Video Conferencing and Communication Tools
Progress Monitoring and Data Management
For younger grades, I found EasyCBM to be especially helpful. It gives you data on fluency and lower level math skills. Students can log on from home and take the assessments needed. The teacher then receives the score and it is graphed for easy comparison. For middle school, try Avenue PM. It takes a few days for accounts to be approved on this website but the program is worth the short wait. For highschool, TeacherEase seems to be the best for upper levels. It is a straight forward LMS system that is free to use. ReadTheory also has features to track students' progress and generate reports about the entire class. It also automatically grades every quiz and provides teachers with information about current Lexile levels. Read this article to learn how to ideally use ReadTheory for remote teaching.
Other recommended tools for (or with) progress monitoring and grading:
Content-Specific Tools
Homework Management and Online LMS
Teacher Aides: helps assist teachers who teach remotely
Hapara

— Helps teachers using Google Classroom by offering training webinars from other educators.

Genially — Offers infographics and interactive photos online for lessons. For a limited time they are offering various free templates.
CK12 — This is an open source interface that allows for easy distribution of online materials including textbooks, flashcards, videos, and activities.
Charts Bin — Create your own digital maps and share them with students.
Tableau — Make your data charts come to life by using Tableau's tools.
Digital Field Trips: Travel the world without ever leaving home
Miscellaneous Tools
Alice Keeler — Alice Keeler is the Queen of Google, anything you need to know about the platform you can find on her site. She has documents and videos with instructions as well as unique assignments.
CommonSense — Central location to search for EdTec apps and tools. If you need something specific that's not listed here check out this site.
We're here if you need us
Our team is here for any questions or concerns that you might have. We continuously post content to ease the lives of both teachers and students, so stay tuned!

Amber holds a BA in English with teacher licensure. She is certified to teach grades 6-12 but currently teaches high school students in an alternative setting. She is Google Levels 1-2 certified, SmartBoard certified, and Newsela certified. In her free time, she mostly enjoys playing with her dogs or plan for her upcoming wedding.