Breaking Down Fountas, DRA, and Lexile
Fountas & Pinnell, DRA, and Lexile. And lions and tigers and bears. Oh my! If you look at these text complexity scoring systems and feel the same trepidation as Dorothy and her friends entering the forest, you are not alone! The extensive information available can be overwhelming. Here is a snapshot of each to help you navigate the forest. 
Fountas & Pinnell
Fountas & Pinnell is a learning system that includes both an assessment and a text complexity score. The system provides literacy instruction for students PreK-6th grade using a multi-text approach for independent, small group, and whole class instruction. Its goal is to create lifelong readers by using authentic texts and experiences. More details about the program can be found here.  
Background and Gradient Chart
This program was developed by Irene Fountas and Gay Su Pinnell. It is based on their work from the early 1990's. Here is a link to their story. The program uses assessments and interventions and provides resources and tools. The F & P Text Level Gradient uses an alphabetic scoring system with the letters A-D corresponding with Kindergarten up to Z for Grade 7-8 and Z+ for High School/Adult. The system takes many factors into consideration when placing a book onto the gradient: text structure, content, sentence complexity, vocabulary, and genre to name a few. More information on the Gradient charts can be found here. A conversion guide to Lexile chart is pictured below. Link to pdf.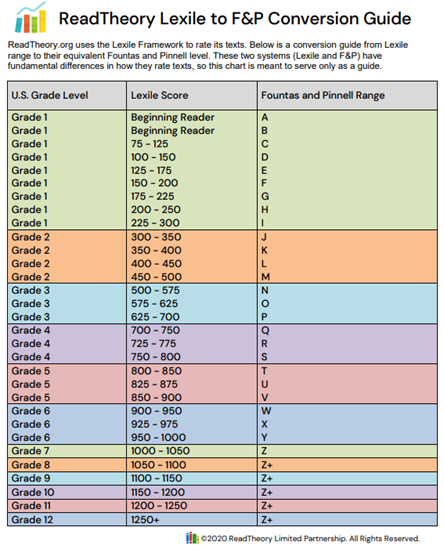 Strengths
As reported in The Empirical Study from the Center for Research in Education Policy, the strengths of the Fountas & Pinnell Leveled Literacy Instruction are engaging instructional materials, take-home books, and the integration of phonics and comprehension. The complete study can be found on ERIC (Education Resources Information Center).   
Considerations
The Fountas & Pinnell Classroom is a proprietary program and must be purchased for individual use. It is available on Heinemann.com, and I also found it on Amazon where it can be purchased or rented. Free online resources can be found on their blog which can be accessed after setting up a free account. Further information can be found here: https://www.fountasandpinnell.com/faqs/assessment
Developmental Reading Assessment (DRA)

Like Fountas & Pinnell, this is both an assessment and a text complexity score. Students are assessed periodically to determine if reading benchmarks are being met. It is used to measure a student's accuracy, fluency and comprehension. Other features of the program include word analysis tasks that assess skills related to phonological awareness, word recognition, and phonics. It is mainly used for progress monitoring and grouping students for instruction.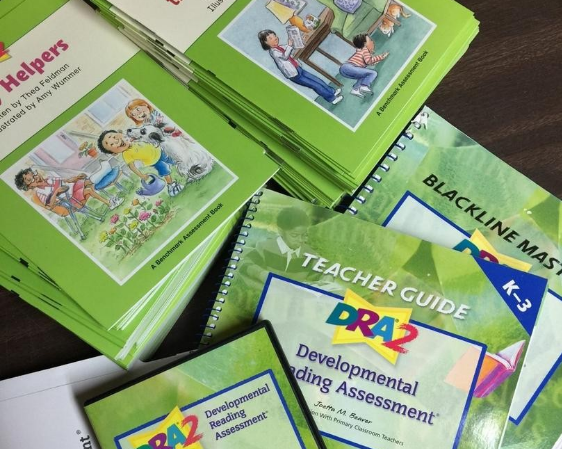 Background and Reading Levels
The assessment was developed in 1986 by a group of educators and has been revised a few times since then. The scores are a numerical score from 1-80 which corresponds to grade levels. The levels are spaced out unevenly over the early grades. For example, Kindergarten is Levels 1-3 and 1st grade is 3-16. By the time a student reaches 4th grade, the levels increase by 10 points each year. To see how the F & P levels and the DRA levels compare, click here. (From Fountas & Pinnell shared resources.)
Strengths
The DRA measures all aspects of reading skills: accuracy, comprehension, and fluency as well as decoding and vocabulary. 
Considerations
The DRA Assessments (available from Pearson) are generally purchased by school districts for school wide data collection. Starting at Level 28 (at the end of 2nd grade), the students have to write their responses which allow teachers to assess writing skills. Additional materials and resources can be obtained from 3rd party vendors which can be found on Teachers Pay Teachers. 
Lexile Framework for Reading
Lexiles are designed to match readers with reading materials. The Lexile levels are actually 2 measures: the Lexile Reading Level that a student receives from an assessment at school or from Read Theory's pretest and the Lexile Text Level which measures a text's complexity. When the scores are looked at together, you arrive at what Lexile's website (Lexile.com) calls the  "Student's Sweet Spot"–the student's instructional reading range.  
Background and Reading Levels
The Lexile scale is over 30 years old. It was developed by 2 educational researchers, A. Jackson Stenner, Ph.D., and Malbert Smith, Ph.D who received grants from The National Institute of Child Health and Human Development (NICHD). Lexile levels range from 300L to above 2000L. Score 0L and below may be coded as BR for beginning readers. In addition to BR for Beginning Reader, Lexile levels are also coded to give more information about the book. Such as HL for High-Low: Higher subject matter intended for older readers with a lower reading level, AD: adult directed for picture books that are read to a child, and GN for graphic novels. You can find the whole list of codes here. 
Strengths 
Lexiles provide an alternate indicator of achievement. Because Lexiles move in 5 point intervals, Lexiles can show a more nuanced progression than just grade level assessments would show. Lexile.com has extensive resources that range from a growth planner, to vocabulary lists, to find books at a particular level, and grade level charts.  
Considerations
Lexile measures are not set in stone. They can go up and down based on the subject matter of a text and the child's interest. As a result, they should be viewed over time and in comparison with each other. 
The Takeaway
Fountas & Pinnell is an overall reading system with materials designed to meet a wide range of reading abilities. 

DRA is an assessment tool to identify independent reading levels. It measures

reading accuracy, fluency, and comprehension and provides benchmark data. 

Lexile is a text complexity system that measures texts with more levels of difficulty. It allows an instructor more differentiation within the levels. 
As you can see, each text complexity system can be a horse of a different color depending on the goals and objectives that need to be met when assessing reading skills. 
Jana Hill, SPED English teacher (for ages 14-20)