Teachers have always been a portion of the population to rise to meet any challenge. The current COVID-19 crisis may prove to be this generation's great obstacle. What other group has found itself forced to convert to working and instructing others online within the time span of a few days? We adapt. We are flexible. And we will prove our value as we overcome this challenge. This is our time to shine. In the wake of the COVID-19 pandemic, schools are being required to augment their instructional techniques and convert to remote learning environments, all in a matter of days. This has left teachers scrambling to find resources that are convenient and freely accessible to them and their students. Today we're going to discuss some of our favorite resources and create a list of our top remote learning tools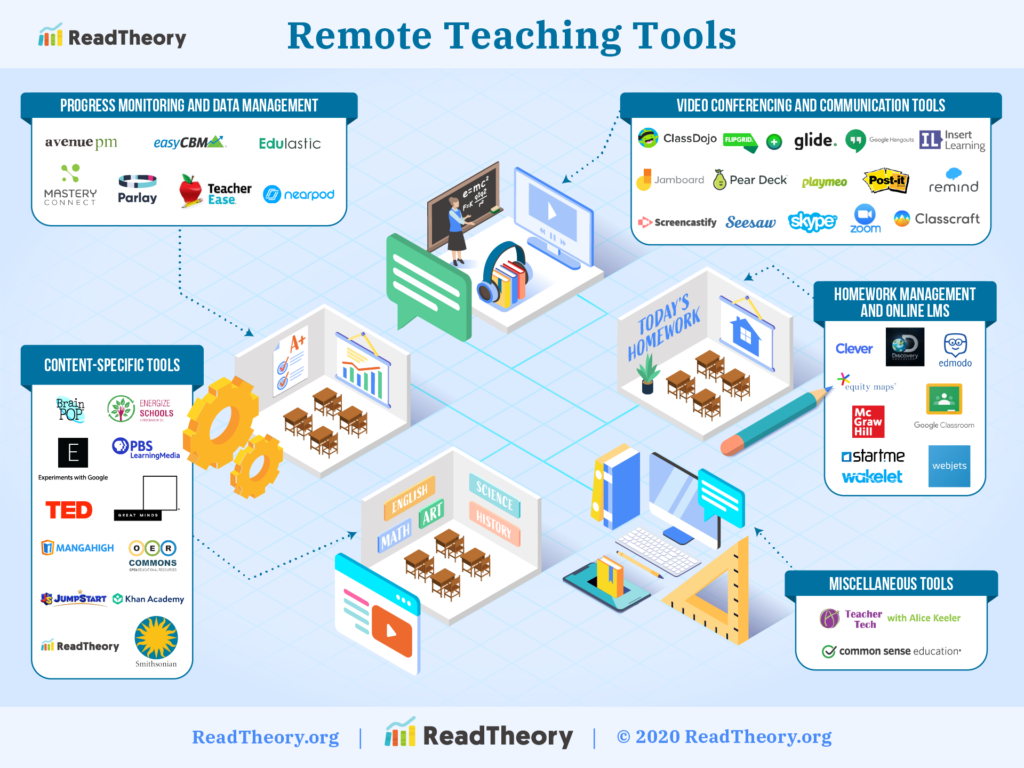 Video Conferencing and Communication Tools
Zoom is a video conferencing software typically used by those in the corporate world. The program allows users to schedule conference times then send out invites to others who then log on at the designated time. This gives the teacher the opportunity to schedule class times or office hours. They can be ready when students log on. From the student perspective, they can choose to share video and/or audio as well as being able to type and share. I have also seen some very creative teachers that have incorporated multiple devices into their Zoom sessions. These involve setting up on their laptops/computers so kids see their faces. Then logging on again with their phone which is positioned to view their work (typically a lapboard or piece of paper). This duality allows the students to see their instructor, something I think we all take for granted. Kids like to see those who care about them. For most of us, we didn't get to tell our kids goodbye, they left us one day and we're told not to return the next. For some of these students, we are the only bright spots in their tumultuous lives, and they are being told they can't see us. Having a zoom session even if it's just to check in with them, will go a long way.
Progress Monitoring and Data Management
For younger grades, I found EasyCBM to be especially helpful. It gives you data on fluency and lower level math skills. Students can log on from home and take the assessments needed. The teacher then receives the score and it is graphed for easy comparison. For middle school, try Avenue PM. It takes a few days for accounts to be approved on this website but the program is worth the short wait. For highschool, TeacherEase seems to be the best for upper levels. It is a straight forward LMS system that is free to use. ReadTheory also has features to track students' progress and generate reports about the entire class. It also automatically grades every quiz and provides teachers with information about current Lexile levels. Read this article to learn how to ideally use ReadTheory for remote teaching.
Other recommended tools for (or with) progress monitoring and grading:
Content-Specific Tools
Mangahigh is a mathematics specific tool that is offering free access for schools affected by the Coronavirus outbreak. As an English teacher, I have never used this program, however, from what I have researched, it is targeted for all age groups (K-12). Teachers can dictate which activities their students need the most. Then Mangahigh tracks and incorporates into a variety of data charts and tables. They support standards from around the globe making the program usable in various countries.
Homework Management and Online LMS
The best homework management tool is Google Classroom. This free platform for Google districts allows teachers to create virtual classrooms and share curriculum while also assigning work. Google Classroom is great because it not only timestamps when it is submitted but you can also view when the assignment was edited by the student.
Teacher Aides: helps assist teachers in the transition to remote learning
Digital Field Trips: Travel the world without ever leaving home
Miscellaneous Tools
Alice Keeler — Alice Keeler is the Queen of Google, anything you need to know about the platform you can find on her site. She has documents and videos with instructions as well as unique assignments.
CommonSense — Central location to search for EdTec apps and tools. If you need something specific that's not listed here check out this site.
Wrap Up
During this trying time, it's important to remember that our students' lives have been turned upside down. They have lost their routine and some have lost their only safe haven. Seniors have lost one of the most pivotal times in their lives. The final semester of high school, prom, graduation, the biggest events in their lives so far. Personally, I have students who would have been the first in their families to walk across the stage and graduate from high school. Now they may not have that chance. Use these tools to post content, but remember to ask how your kids are, see how they are coping. Just hearing your voice and being reminded of your care will help them get through this especially difficult time.
We're here if you need us
As always, but even more so now, our team is here for any questions or concerns that you might have. We will keep posting new content on a weekly basis on how to simplify the transition to remote teaching and ease the lives of both teachers and students, so stay tuned. And stay healthy!  

Amber holds a BA in English with teacher licensure. She is certified to teach grades 6-12 but currently teaches high school students in an alternative setting. She is Google Levels 1-2 certified, SmartBoard certified, and Newsela certified. In her free time, she mostly enjoys playing with her dogs or plan for her upcoming wedding.
Amber Meares-Howard, High School English Teacher